Look at How We are Abusing our Animals
www.thedailyjournal.com

August 19, 2006, CUMBERLAND COUNTY, NEW JERSEY - On any given day, a two-member animal cruelty investigation team crisscrosses the 500 square miles of Cumberland County administering to unkempt, unwell and unloved animals.

It's more than just a job to Society for the Prevention of Cruelty to Animals staffers Monica Shaud and Kelly Serbeck. To them, it's a calling.

The Cumberland County SPCA is the county's lone law enforcement agency that focuses specifically on animal welfare.

The women divide their time between education and enforcement, trying to rein in the number of local cruelty cases, which have soared beyond 900 annually for the past five years.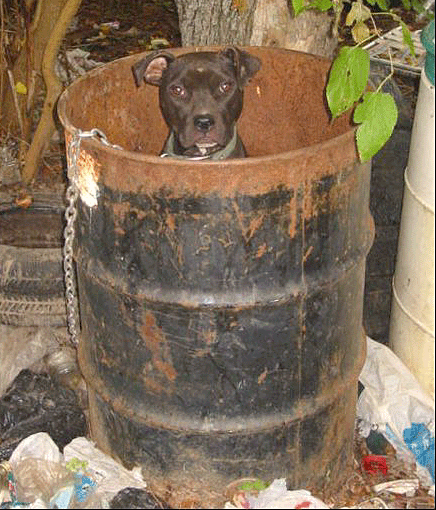 To put that in perspective, the Delaware SPCA -- that covers the entire state except for Kent County -- handled 1,224 cruelty cases between July 1, 2004, and June 30, 2005, according to agency director John Caldwell.

Buddy Amato, the chief of law enforcement for the SPCA in Monmouth County, which is geographically the same size as Cumberland but with four times the population, handles about 950 cases per year.

There are many factors contributing to the high Cumberland County caseload, New Jersey SPCA spokesman Matthew Stanton said, including:

The rural nature of the area, which means more animals .

The high profile the local SPCA has in the community.

The local agents' aggressive enforcement.

Shaud and Serbeck are now trying to expand their educational outreach.

Their latest teaching tool is a 4.5-minute DVD featuring a montage of 63 crime scene photographs, including some of their most tragic cases. Footage includes skeletal horses, tick-infested pups, and dogs with shattered bones and broken spirits.

The result is both graphic and powerful, the investigators admit, noting it has moved most weathered shelter officials to tears.

"A lot of people don't want to look -- no one wants to see it," said Shaud, referring to most extreme accounts of animal abuse. "But you have to see what people have the capacity to do -- you have to acknowledge there is a problem before you can address it."

Serbeck, the more electronically gifted of the two, compiled the DVD by tapping into the nonprofit agency's digital photography archives. During the project, she stumbled across "The Change" by country crooner Garth Brooks and believed the song's poignant lyrics made it a perfect soundtrack for the DVD.

"One hand reaches out and pulls a lost soul from harm while a thousand more go unspoken for. They say what good have you done by saving just this one. It's like whispering a prayer in the fury of a storm."

The song seemed to emphasize the SPCA's mission, Serbeck said.

"The first time I saw it, I was bawling -- it's quite emotional," Shaud said, well aware of the impact the material will have on mature audiences who will view it. "You can say something was skin and bones," Shaud said, "but if they see it, it stays with them."

Both Shaud and Serbeck carry their share of memories with them.

They remember the names of the ones they couldn't save.They celebrate the ones they did.

On a fall day last year, the investigators headed down to the rural regions of Cedarville, prompted by a tip about four mistreated pit bulls.

When they arrived, Shaud said, they could only see three dogs until they noticed a pair of brown eyes peering over the edge of an industrial drum. The container was packed with just enough refuse to allow the dog to see over the rim. The dog was suffering from a severe case of ringworm that was literally eating through his fur.

The dogs were removed from the property. The SPCA attempted to track down the owner, Serbeck said. It mailed a summons to the address, which came back marked undeliverable.

Although the SPCA's preference is to adopt out animals, those deemed unsocial or ill are euthanized, as was the dog found in the drum, dubbed "Oscar," after another famous trash can dweller.

Oscar's eyes continue to peer at Shaud and Serbeck each day as they stop by the Delsea Drive shelter to pick up the latest round of anonymous tips, which average about three a day. His framed photograph stands on the file cabinet that faces the investigators' conjoined desks.

"It says it all," Shaud said. "It's what we see every day -- some people think their animals are trash -- they throw them away."

Most of the investigations focus on pet owners not providing an animal's most basic needs: water, food and shelter.

"Eighty percent of the people are ignorant to the law," Serbeck said, noting 50 percent of those are repeat offenders. "I don't know if it's because they don't care, or laziness," she said.

For example, she said, some folks don't anchor a dog's water bowl. They fail to realize that five minutes after they leave for work the dog can flip the bowl, leaving it without a drink for the rest of the day.

The investigators will follow up with random visits to ensure pet owners comply with regulations. If they don't, there will be a summons, court appearance and possible fine.

To educate, the SPCA is a frequent visitor to area schools, where it gives youngsters a crash course in responsible pet ownership.

The investigators are getting a boost from an Animal Planet cable show that tags along with SPCA cruelty investigators in major cities."The show works wonders with children," Serbeck said. "They know what we do." When they ask students if they've seen the program, Serbeck said, "every hand in the room goes up."

She recalled when they visited a Seabrook elementary school a few years back when they quizzed students about a pet's basic needs. Students quickly guessed food and water. "Kids don't list shelter," Serbeck said, and the SPCA staff explains why it's important for a dog to have a house and shade to protect it from the elements.

About two or three weeks after that visit, the investigators were tipped about a dog chained in a backyard.No one answered the door when the investigators arrived. "We get that a lot," Serbeck said. They pressed on to find the dog chained in the corner of the yard in the full sun. Closer scrutiny revealed a crumpled Teenage Mutant Ninja Turtle sheet near the dog. That's when the investigators noticed the youngster, a graduate of the pet ownership class.

"I told her the dog needed shade," the little guy explained to the investigators. While he was old enough to know how to care for the dog, he was too little to secure the sheet over the fence.

By reaching youngsters, the SPCA investigators said they hope to stem the severe case of animal abuse committed at the hands of children. Some examples:

Summer 2000 -- Six boys between 10 and 12 years old were charged with torturing two cats.

December 2004 -- Two 13-year-old girls were charged with torturing a kitten by stabbing and stomping it to death in Laurel Lake.

January 2005 -- Jeffrey Kane, a Millville teen, was sentenced to community service and fines after he was found guilty of mowing down a flock of sea gulls at Cumberland Mall.

In an age of rising frustration and venting tempers that fuel outbreaks like road rage, those emotions also tend to result in more violence at home, the SPCA investigators said, noting people often lash out at their animals because they're there and can't talk back. That's when the SPCA steps in to be a safety net.

Many pets come to homes as free additions. "They don't attach a value to it," Shaud said. Take the case of the Fairfield Rottweiler that investigators found in its doghouse. The owner assured the SPCA that the dog was fine and ran to the fence for its food each day. Shaud and Serbeck pulled the dog from the enclosure. Two legs were severely injured including one that was nothing but a blood-soaked stump with an exposed bone. The dog was injured when its legs got tangled in its chain but the owner never sought vet care, leaving the wound to fester. The dog was removed and euthanized. "There was nothing we could do," Serbeck said.

The heartbreak was not a onetime hard luck case. Soon after, Shaud and Serbeck were tending to a pit bull dog, named Edgy. "We pulled her out from under a porch in Millville," Shaud said. Her front leg was swollen and raw, infected from lack of medical care after another dog bit her.

The animals, despite the harshest of treatment, remain sweet and trusting, Shaud said, remembering how Edgy licked her hand as she reached out to help. The SPCA took Edgy to the vet, where her festering leg was amputated, but she later succumbed to infection.

"We tried hard to save her," Serbeck said, interrupted as the phone rang with yet another tip of an animal abused. It took precedence over half-eaten takeout lunches that sit on their desks.

"We're on our way," Shaud told the caller.



---