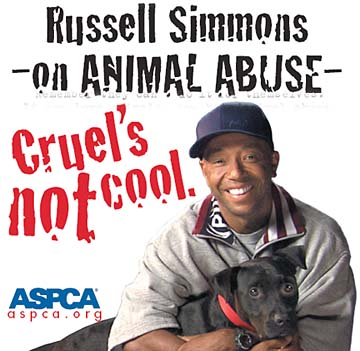 Many people end up at www.UnchainYourDog.org because they are looking for information on dog fighting. We agree with hip-hop mogul Russell Simmons that Cruel's Not Cool (Listen to Simmons or see poster).

Please, have a heart and treat other living and feeling creatures the way you want to be treated: with respect and kindness. Dogs are social animals who - in the wild - hunt together, sleep together, and play together. It is a dog's nature to respect the pack leader and get along with the rest of the pack. Not to fight. Dogfighting is cruel, unnatural, and wrong.

Dog fighting is a felony, so report it to the police! To learn more about dog fighting and how to stop it, visit our Dogfighting page.



Officials Work To Take Bite Out Of Dog Fighting
www.wesh.com

February 17, 2005, CANAVERAL GROVES, Fla. -- Central Florida is a major player in the illegal breeding of pit bulls, a WESH NewsChannel 2 investigation revealed. It's a disturbing discovery: dogs being bred into a lifetime of bloody fighting, suffering and neglect.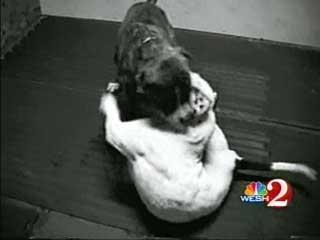 Deep in the woods in rural Brevard County, officers are on a pit bull hunt. They find a half-dozen, securely chained, no humans in sight. Officers believe these dogs are bred to fight. "They're going to take dogs that are worth $1,000, $2,000, up to $5,000 to fight another dog for a purse that could double that, so this is not something they play around with," Brevard County Animal Services representative Chuck Best said.

"These animals are treated horrifically," Brevard County Animal Services representative Bob Brown said. They chain them with heavy chains and only a few feet to walk around. They say it makes them stronger.

Some dogs wear deep grooves into the ground. When it rains, they stand in water. But this is nothing compared to what it looked like months ago on the same property. Dog chains and cages seemed to go on forever into the woods. Scarred and bloody dogs were left to heal or die on their own, and this wasn't even the largest breeding farm in Brevard County.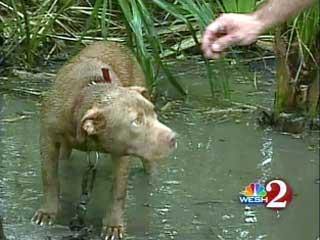 That distinction belonged to Terry Clark's property about 20 miles away in Mims, with more than 70 dogs. There's one in every cage. On both farms, officers found repeated violations of animal-cruelty laws.

Playful puppies face a bleak future. Someone will train them to kill.

"There is often situations where these smaller animals are actually taken from neighborhoods from areas to be used for bait animals to be put in these pits with these animals so they can get the taste of the combat, the taste of the kill if you will," Brown said.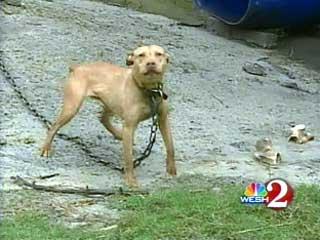 Officers have seized breeding stands, in which female dogs are bound so they won't attack the male dogs trying to mate with them; they've found break sticks, used to pry open a dog's jaws; they've found elaborate records detailing the bloodlines of dogs that have winning reputations. There is no mercy for dogs that lose in the ring.

"He's not going to be selling puppies bred from this loser dog, and so he'll go in and actually either cut the dog's throat or shoot it. The whole system is bound together by cruelty and abuse of animals," Brown said.

The owner of the Mims property paid civil fines for cruel and inhumane treatment of animals. The state prosecuted the owners of the first property on misdemeanor charges of cruelty to animals. A judge ordered the Mitchells not to own any more animals. That's why officers made a recent follow-up visit and found several pit bulls.

But there is a catch: The order prohibiting dog ownership applies to the people, not the property. "As soon as all these dogs are taken off, more dogs start showing up, and somebody else is claiming ownership saying they're their dogs," Brevard County Sheriff's Deputy Keith Grosse said.

Many of the dogs that were on the two illegal breeding farms are simply gone. Officers assume they were sold to other members of the closely guarded underworld of pit-bull fighting. "It's definitely going on in Brevard County," Brown said.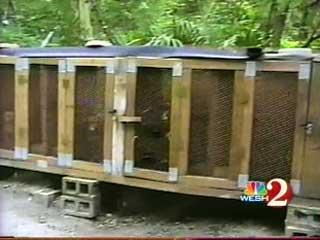 The pit bull fights are rarely in the same place twice. Word of their location spreads by mouth or on the Internet. Thousands of dollars are on the line, and the stakes in the biggest championship fights exceed $100,000.

"We're never going to roll up on one. It's secretive. It's private. It's very highly organized," Best said. Officers have been unable to penetrate the inner circle. They see only the victims, the scarred and mangled dogs.

Animal services confiscated less than half of the dogs found. Of those, some were adopted, and others were put to sleep. As for the dogs that were not confiscated, officers allowed the property owners to sell them or give them away.




---
---