'Lifetime' Dog Ban for Cruelty
The New Zealand Herald, www.nzherald.co.nz

By Tony Gee

August 12, 2004, NORTHLAND, NEW ZEALAND-- A court decision banning a Northland man from owning dogs indefinitely is effectively a lifetime ban and is the first time such a penalty has been imposed under the 1999 Animal Welfare Act, the Bay of Islands SPCA says. The decision came after a man allowed his two dogs to starve to a point just short of death. One had to be put down after SPCA intervention.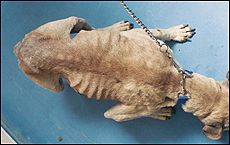 Society prosecutor Jim Boyd said he welcomed a decision by the Kaikohe District Court yesterday to ban the 49-year-old sickness beneficiary from owning or controlling dogs for an indefinite period - effectively a ban for life. Trevor Joseph Howard, of Panguru, had admitted two charges under the Animal Welfare Act of failing to ensure the physical, health and behavioural needs of two pit bull terrier type dogs were met. One dog, an old male, had been owned by Howard for more than 15 years. The other, a young female, had been with him since she wandered out of the bush a few weeks earlier.

Mr Boyd told the court the young female dog was chained up a few metres from the front door of Howard's house. The older dog was confined in a kennel and run in view of the defendant's dining room window. When an SPCA inspector was called to the property in February, the old dog had to be carried to the SPCA vehicle. The younger dog stumbled from weakness as it walked and also had to be lifted into the vehicle.

Mr Boyd said a veterinary examination showed both dogs were suffering from malnutrition due to starvation. The older dog was partly blind and its muscle had wasted away. It was put down. The younger dog was between 5kg and 8kg under optimum weight.

Mr Boyd said Howard had admitted knowing his dogs were in bad condition and starving. He had been preoccupied with his own health problems, had been in hospital for a short time, and had not attended to the two animals. Mr Boyd said a power board worker who had come to disconnect the power had seen the dogs and reported it to the SPCA.

Judge James Rota sentenced Howard to 240 hours' community work and ordered him to pay SPCA expenses of $243, with $130 court costs. Mr Boyd said the indefinite disqualification period imposed on Howard for owning dogs was, in effect, a lifetime ban, which was the first occasion anyone had been given such a sentence in relation to dogs under the act. Usually, a convicted defendant would be banned from dog ownership or control for periods of up to five years.

"This decision [indefinite ownership disqualification] can be seen to be raising standards of animal welfare throughout New Zealand," Mr Boyd said yesterday. He said Howard had told him he accepted he should not own dogs again. Mr Boyd said he planned to call and check on Howard from time to time at his remote rural North Hokianga property, between Panguru and Kohukohu, to ensure no dogs were present.

---