Just call him National Hero Dog
St.Petersburg Times
By Alex Leary, Times Staff Writer

May 6, 2004, HUDSON, FL - There was no question in Fran Oreto's mind that Brutis is a hero for grabbing a coral snake that got dangerously near her grandchildren one Saturday afternoon last fall. But when the phone rang a few weeks ago, Oreto thought someone was playing a joke.

The caller said he was from Los Angeles and wanted to congratulate Brutis, a 7-year-old golden retriever, for his canine heroism. The man wanted to fly them to Los Angeles to accept the National Hero Dog award.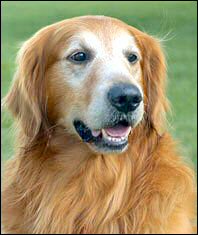 "At first I thought the guy was pulling my leg," said Oreto, who lives in Hudson with her husband, Mark Asbury, Brutis and six other dogs. "But no, it's really true."

Brutis, who not long ago was near death from the snake's venomous bite, boarded a Delta plane with his owner Wednesday morning and made the trip to Los Angeles. The 95-pound dog sat at Oreto's feet, upon special accommodation from the airline.

"You know how they give you those little bags of pretzels?" Oreto said. "He was begging for them." Today, in a 10 a.m. ceremony at the Staples Center, home of the Lakers, Brutis will bask in the glory of being the nation's top dog.

"A lot of dogs might have just barked or run away. But Brutis went for the snake and took the bite," said Madeline Bernstein, president of the Los Angeles chapter of the SPCA, which has named a Hero Dog for the past 22 years.

"When we give an award like this," Bernstein said, "we're looking for something a little bit extra. We're looking for the kind of thing where people say "Why do you suppose a dog would do that?' "

Brutis beat out about 200 other dogs that were either nominated by their owners or noticed by Bernstein's staff through news accounts. The contest excludes dogs formally trained for rescues or law enforcement.

Past winners include a German shepherd mix named Shadow that protected its master from a charging grizzly bear and an Australian cattle dog that fought off an alligator for its 84-year-old owner.

For Brutis, it was his owner's grandkids, 4-year-old Angelique and 2-year-old Lucca. The kids were playing on the swings while Oreto and her husband unpacked a badminton set. Suddenly, Oreto heard a commotion behind her. Just 5 feet from the kids stood Brutis. A coral snake was in his mouth - coiling, trying to strike. "If he hadn't gotten the snake, it could have been the kids. It could have been me," Oreto said at the time.

Her husband took the 16-inch snake, ran inside and threw it in the freezer. But the snake already had bitten Brutis. The venom was working on the dog. His red blood cell count was falling. With a glazed look in his eyes, Brutis slumped on the kitchen floor.

Oreto rushed Brutis to her sport utility vehicle and took off for an emergency veterinary clinic in Port Richey. Brutis' breathing was labored. He vomited, then defecated.

"The vet said, don't get your hopes up," said Oreto, 52. "We'll do what we can do. But I said he can get through this. There is always hope. There is always hope."

She frantically began calling local hospitals, asking whether they had antivenin. The first six hospitals could not help. Oreto said a prayer and called Morton Plant North Bay Hospital in New Port Richey. "They've got it. They've got it," Oreto shouted.

The antivenin, which is extremely hard to come by, especially when it's for a pet, began to work. When Oreto left Animal Emergency of Pasco shortly before midnight, Brutis was stable. But later that night, the vets called and said his condition had worsened. He eventually needed more antivenin and a blood transfusion.

Over the next three months, Brutis would make a steady recovery. "The doctors were constantly astonished by the progress," Oreto said. She racked up about $5,000 in vet bills and said she would do it again. "He's a family member."

The SPCA's Bernstein said that is common thinking among owners of dogs that have won the award. "You would never see a dog cruelly treated or chained up all day do something like this. We want to highlight the human-animal bond."

Oreto realizes some people will debate whether Brutis really is a hero. Dogs, after all, are prone to chase things that slither through the grass.

"Could it be coincidence? It could be," Oreto said. "We could go back and forth. But in my eyes, he's a good boy, and he deserves a good pat on the head - and the occasional Milk-Bone."



---