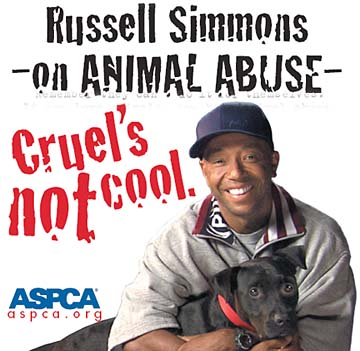 Many people end up at www.UnchainYourDog.org because they are looking for information on dog fighting. We agree with hip-hop mogul Russell Simmons that Cruel's Not Cool (Listen to Simmons or see poster).

Please, have a heart and treat other living and feeling creatures the way you want to be treated: with respect and kindness. Dogs are social animals who - in the wild - hunt together, sleep together, and play together. It is a dog's nature to respect the pack leader and get along with the rest of the pack. Not to fight. Dogfighting is cruel, unnatural, and wrong.

Dog fighting is a felony, so report it to the police! To learn more about dog fighting and how to stop it, visit our Dogfighting page.



Deputies Break Dog Fighting Ring
www.TheDailySoutherner.com

By Calvin Adkins

February 24, 2004, ROCKY MOUNT, NORTH CAROLINA-- A routine larceny investigation by the Edgecombe County Sheriff's Department Monday morning uncovered a large dog fighting ring. Thirty-two pit bulls were seized along with a substantial amount of
drugs from a resident on Calhoun Road, located off N.C. Highway 43 outside the city limits.

Large chains nailed into the ground with trailer axles and thick collars are used to contain the animals.

Four people were arrested without incident: Melanie Beth Waring, 24, of 6309 Moore Road, Nashville; Troy L. Murphy, 30,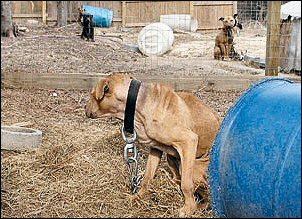 of 701 Marlee Drive; Joseph Donnelle Hussey, 18, of 809 Tyan St.; and Roy Junior Tillery, 47, of 2417 Calhoun Road.

A deputy went to the residence on Calhoun Road around 9:30 a.m. to inquireabout alleged stolen property, said James Knight, Edgecombe County sheriff. When one of the residents answered the door, the deputy realized that he was a "known drug dealer," Knight said. The deputy apparently became suspicious and ran a tag number on a four wheeler that was in the yard. The tag revealed that the vehicle was stolen. "From there, everything began to escalate," Knight said.

The suspects, who were inside the house, were cuffed and a search warrant was drawn. Once investigators went inside the house, they found four dogs,
771 grams of cocaine and $1,800 in cash. Another dog was chained outside the house.

On a long path behind the house, investigators found a large fence with 27 pit bulls, tied with large chains or in small penned-in fences. Several of the dogs had cuts, bruises and dried blood, which appeared to have come from fighting. The legs of two of the dogs were seriously injured. The water and food dishes were emptied. Four puppies were included in the count.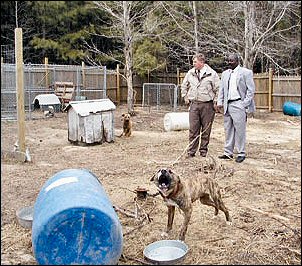 A stolen vehicle was found on the path and another was found inside the fenced area. Knight said the vehicle inside the fence was used to transport the animals. Both vehicles were confiscated.

Edgecombe County animal control officers confiscated the animals and placed them at the county's animal shelter. Knight said all but the four puppies may be euthanized.

Approximately 50 yards from the fence, investigators found what Knight described as a burial ground for the dead dogs. A dog skull and other dog bones were on the top of the soil. Two large empty holes, dug by a backhoe, were also in the area.

Some of the dogs came from an operation the sheriff's department busted on U.S. 258 approximately five months ago, Knight said. "At that time we didn't have anything on them," Knight said. "The dogs were in good shape. What they did was
move that operation here. This time we got them."

The suspects were charged with trafficking cocaine, possession with the intent to sell and deliver cocaine and maintaining a dwelling to sell and deliver cocaine. They were all placed in the Edgecombe County Detention Center under $100,000 bonds.

Animal cruelty and other charges will be filed against the suspects today, and more arrests could be made in the case, Knight said. One of the suspects had a brush with the law a couple of months ago. Murphy was arrested on drug charges in December after the Edgecombe County Sheriff's Department and Tarboro Police Department raided a Princeville home.

Investigators confiscated $900, two bags of crack cocaine with a street value of $100 and two grams of marijuana from Murphy. He was placed in the Edgecombe County Detention Center under a $10,000 secured bond.



---
---